A Pre-Listing Inspection is obtained by the seller either before or shortly after listing the property for sale.
Having an inspection at the time the property is listed allows the seller time to make repairs before they are picked up by the buyer's inspection and used as negotiating points to bring the price down.
Buyer's negotiate in thousands, not hundreds! Buyers typically expect a $2 to $3 reduction for every $1 worth of defects turned up by their inspector. Having an inspection can minimize price negotiations.
The pre-listing inspection covers the same items as the buyer's inspection.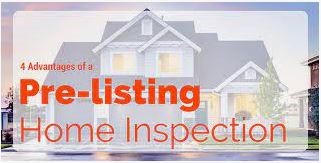 1. The Seller is in control of the real estate transaction vs the Buyer and can dictate up front what repairs they will make to the house.
2. The Seller has an opportunity to build repair costs into the price of the house.
3. The Seller has an opportunity to shop around and get better repair prices and make their own repairs.
4. The Seller has an opportunity to make their own repairs vs being forced to hire licensed contractors.
Traditionally, how real estate is sold goes as follows
Houses are put on the market, offers are accepted, and then inspections are performed for Buyers. Upon inspection, deficiencies are discovered and then Buyers and Sellers negotiate repairs. With this process, real estate transactions are negotiated twice, once on the price of the house and once for repairs. Upon negotiating repairs is when all the anger, anxiety, and frustration with the real estate process takes place.
MOREOVER, THIS PROCESS ALWAYS COSTS THE SELLER MONEY.
In our experience, never in the history of selling houses has a Seller netted more money or sold the house for a higher price, after the Buyer's inspection is performed. The Buyer will always demand a repair of an item, replacement of an item, or a reduction in price.
AGAIN, THIS PROCESS ALWAYS COSTS THE SELLER MONEY.